Our cemetery is proud to offer exceptional Burial Shrouds. 
A burial shroud is a cloth that wraps around a body for burial.  Burial shrouds are traditionally created from cotton, wool, linen, or even bamboo; but any material can be used as long as it is natural.
We usually have the below items in stock.  For more shrouds, visit our partners Kinkaraco.com and let us order it for you.
THE TRU-GREEN BELIEVER
Classical Burial Shroud Kinkaraco
100% Biodegradable Cotton Muslin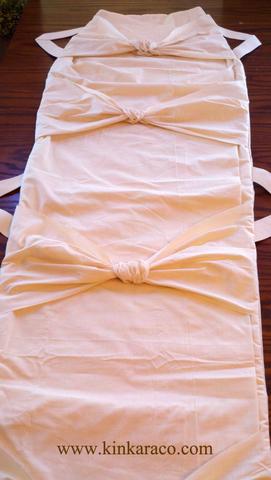 Available in Unbleached Natural.  This beautifully handcrafted burial  shroud contains graceful lines and all  the strength needed for a perfect  shroud burial.  Can be adorned with  herbs, flowers and other natural items.  Can also be airbrushed or painted. (Do not wash.)
This shroud requires the stability of  either a willow tray, casket or shrouding board.  Lowering is accomplished by using either a lowering device or straps.
Cost:  $450.00 + tax
Features 4 attached handles so 4 people of average strength can carry their average sized Loved One.
THE PURE LIGHT
Fine Burial Shroud by Kinkaraco
100% Biodegradable European Linen Shroud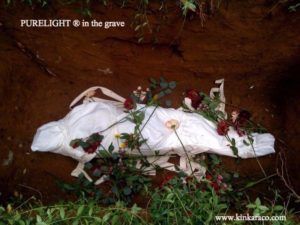 This beautifully handcrafted shroud features a board sewn inside the spine for stability. It can be used either with or without a container or tray and can be adorned with herbs, flowers and other natural items. Can be airbrushed or painted. (Do not wash.) Contains graceful lines and all the strength needed for a perfect shroud burial. Available in Ivory.
SMALL $650 + tax    Fits anyone under 5'2". Features 4 handles and 4 straps for carrying and lowering. (2 people per side.)
LARGE $655 + tax    Fits 5'4"- 6'. 78" long, 24" across the back. Features 4 handles and 4 straps for carrying and lowering. (2 people per side.) Carries 125-250 lbs.
EXTRA LARGE $679 + tax    Fits people 6'-6'4". 80" long, 29″ wide across the back. XL features 6 handles and 6 sturdy lowering straps for better weight distribution for larger people. XL Requires 6 bearers (3 people per side)