The Park
Countryside Memorial Park is a Green Cemetery located approximately 25 miles outside of San Antonio, Texas. We are 1.58 acres of fenced, dedicated natural land nestled within 86 acre farm located in peaceful Lavernia, Texas.
History
Countryside is home to the historic Beall family cemetery, with the first burial dating back to 1854. When landowner AD Zucht first discovered the old graves hidden in his woods, he was moved by the idea of expanding the tiny, peaceful cemetery into a family-style natural burial cemetery that welcomes all. His daughter Chrysta Bell and her family are dedicated to continuing her father's vision of heartfelt service to families and the environment.
Green Cemetery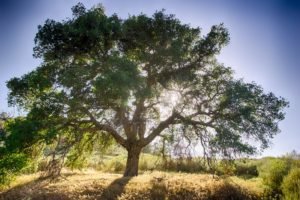 Because we are a green cemetery, everything placed in the ground at Countryside Memorial Park is nontoxic and biodegradable. This is what allows the burial to return naturally to the earth. All burial containers placed in Countryside Memorial Park are 100% biodegradable and nontoxic. Metal caskets and fasteners, synthetic linings, formaldehyde glues, and high VOC (volatile organic compounds) finishes are prohibited. All caskets must be constructed from wood, grasses, reeds, bamboo, or other natural materials. All burial shrouds must be made of natural plant or animal fibers. Outer burial containers, such as concrete liners, metal vaults, partitions, and slabs, are prohibited.
The Landscape and Markers
To maintain the natural landscape, we prohibit upright markers or monuments. The existing monuments/markers/concrete on the cemetery grounds are either a part of the historic Beall Cemetery, or have been "grandfathered" in. We offer beautifully engraved flat stone markers, or families can install flat, engraved granite markers purchased by outside providers. All graves require markers, and markers will be snuggled into the ground rather than concreted in. Shrubs and wildflowers can also be used on graves but must be appropriate for the location. We ask families to contact our cemetery office before planting on the graves. If a family wishes to plant a tree, they must choose a plot that is designated for a tree, and the tree must be a native tree approved by Countryside. A tree plot is a premium plot, and the family is responsible for nurturing the tree.
Burial Archives
All burials and scatterings of cremated remains are archived electronically and on paper.